ZAero M24 general meeting
On 4th-5th September ZAero project's M24 general meeting took place in Mtorres facilities, Pamplona (Spain). During the meeting, partners checked the current state of the project and especially, the status of the three demos of the project. In addition, recent activities and final steps in dissemination and exploitation were discussed. ZAero project is entering its last year as it will end in September 2019.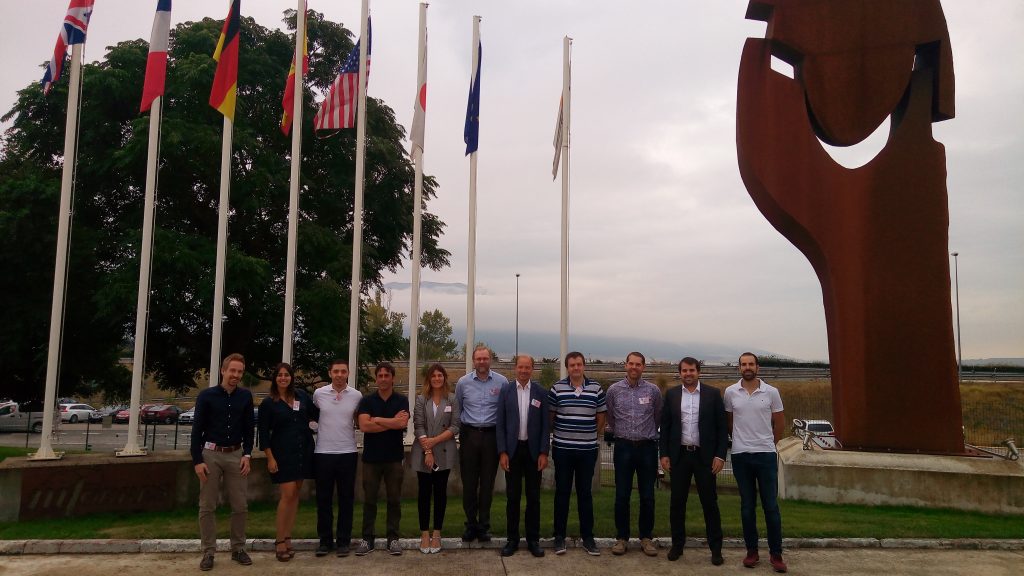 Aerospace Composites Market worth 42.97 Billion USD by 2022
The report "Aerospace Composites Market by Fiber Type (Carbon, Glass, Ceramic), Resin Type (Epoxy, Phenolic, Polyester, Polyimides, Thermoplastics, Ceramic and Metal Matrix), Aircraft Type, Manufacturing Process, Application, Region - Global Forecast to 2022", The aerospace composites market is projected to reach USD 42.97 Billion by 2022 from USD 26.87 Billion in 2017, at a CAGR of 9.85% from 2017 to 2022. The major factors fueling the growth of the aerospace composites market across the globe are the increasing use of aerospace composites in commercial and military aircraft.
Read More
New Concepts for Quality Assurance of Lightweight Material [Paper]
Lightweight material became more and more important during the last years. To ensure a defect-free production, effective measurement solutions for quality assurance are necessary. For the detection of internal defects thermography provides a suitable solution...
Experimental Study of the Effect of Internal Defects on Stress Waves during Automated Fiber Placement
The detection technique of component defects is currently only realized to detect offline defects and online surface defects during automated fiber placement (AFP). The characteristics of stress waves can be effectively applied to identify and detect internal defects in material structure. However, the correlation mechanism between stress waves and internal defects remains unclear during the AFP process.
In Situ Thermal Nondestructive Evaluation for Assessing Part Quality During Composite Automated Fiber Placement
This paper presents data from an innovative nondestructive evaluation (NDE) method for automated composite fiber placement fabrication. Using Infrared images of the fiber, as it was being placed, we are able to provide valuable information about the quality of the part during fabrication. Herein, we discuss the methodology for data collection and processing. The described in situ thermal NDE process is found to be applicable for identifying fiber tow overlaps, gaps, twists, puckering, and poor ply adhesion prior to cure, thereby reducing the time and cost associated with post cure flaw repair or scrapping parts.
Intelligent Inspection System Based on Infrared Vision for Automated Fiber Placement
This paper proposes an intelligent inspection system based on infrared vision for Automated Fiber Placement. It can improve composite materials production quality and production efficiency, shorten process design time, and reduce material waste. The system can realize the defect recognition and defect measurement, which can be used in intelligent decision-making, optimization of multi-parameters and quality traceability. Experiments are conducted to verify the feasibility and effectiveness of the presented system.
Olympus: Composite Inspection Solutions
Link to Olympus' offer for the Inspection of Composite materials.
Boeing Reports Solid Third Quarter
The Boeing Company reported third-quarter revenue of $25.1 billion driven by higher defense volume and services growth (Table 1). GAAP earnings per share increased to $4.07 and core earnings per share (non-GAAP)* increased to $3.58 primarily driven by strong operating performance at Commercial Airplanes and a tax benefit related to a tax settlement ($0.71 per share). Results also reflect charges related to planned investments in the newly awarded T-X Trainer and MQ-25 programs ($0.93 per share). Boeing delivered strong operating cash flow of $4.6 billion, repurchased $2.5 billion of shares, and paid $1.0 billion of dividends.
Airbus: Global Market Forecast 2018-2037
Airbus' Global Market Forecast (GMF) for 2018-2037 offers a forward-looking view of the air transport sector's evolution – accounting for factors such as demographic and economic growth, tourism trends, oil prices, development of new and existing routes, and ultimately highlighting demand for aircraft covering the full spectrum of sizes from 100 seats to the very largest aircraft over 500 seats.
Suragus: Non-destructive carbon fiber testing
SURAGUS provides non-destructive testing equipment for various carbon fiber materials. Our EddyCus composite testing systems visualize the fiber structure in hidden layers, detect effects and defects in the fiber alignment and characterize or quantify material properties such as fiber areal weight or isotropy of carbon textiles, semi-finished products, composites and recyclables. The eddy current testing systems assist the improvement of product quality by direct process control, increase the material yield and conduct incoming and outgoing goods inspection.
2nd CIRP CCMPM to be held at the AMRC KTC on 10th to 11th October 2019
The 2nd CIRP CCMPM will take place at the Advanced Manufacturing Research Centre (AMRC). The AMRC is a network of world-leading research and innovation centres working with manufacturing companies from micro-SMEs to multi-national giants around the globe. Within this network, the AMRC's Composite Centre aims to utilise innovative manufacturing methods to produce ultra-lightweight components from composite materials.
Upcoming events for ZAero Partners
JEC World | 12nd - 14th Marc, 2019 | Paris (France)

Control Fair (International trade fair for quality assurance) | 7th-10th May, 2019 | Stuttgart (Germany)

SAMPE Europe | 17th - 19th September, 2019 | Nantes (France)
Copyright © 2018
ZAero: Zero-defect manufacturing of composite parts in the aerospace industry
http://www.zaero-project.eu
All rights reserved